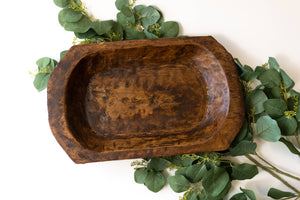 These little decorative bowls add delightful details to any ensemble, especially those with minimal space and in need of additional layers of color or texture.  Features a distressed, solid finish that is perfect in any rustic-inspired aesthetic.   It is both durable and stylish.
Each bowl is unique and difference in size -- Measures approximately: 9" long.
Please understand these are wooden bowls made to look rustic from raw wood. Some may have knot holes, scratches, knife marks, saw blade marks, sap or minor cracks and blemishes. These are not defects. These are a natural part of the bowl that have been made from raw wood. Size, color and shape will vary.