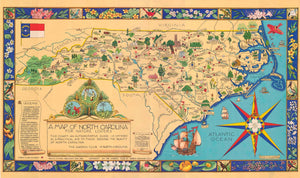 Pieces: 550 pieces | Size: 24" x 18"

The artwork for "A Map of North Carolina for Nature Lovers" was created in 1937 by Mabel Pugh, then, head of the Art Department of Peace, a Junior College for Women in Raleigh, NC. Mrs. Pugh created the map for Mrs. R.L. McMillan, the then chairman of the Map Committee and First Vice President of the Garden Club of North Carolina.  Heritage Puzzle is using this image with permission from the Art Archives of the state of North Carolina. A great educational puzzle for all ages!
Made in Winston Salem, NC.