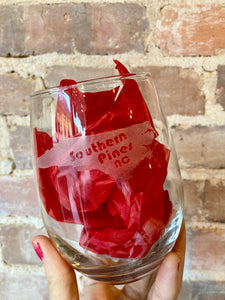 This stemless wine glass has been etched with "Southern Pines, NC" inside of the state of North Carolina. Image is permanently etched into the glass using a sandblasting method. Sandblasting creates a smooth, engraved surface without sharp edges and allows for a deeper etch.

**Glassware is dishwasher safe, but please remember that wine glasses are more fragile than other glassware. we recommend hand washing to ensure that your personalized wine glass stays in the best shape!***

Made in Southern Pines, NC.